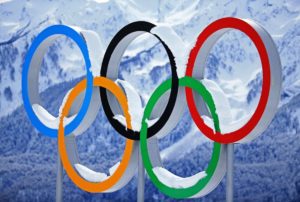 Last night, I watched the opening of the 2018 winter Olympics in South Korea, and it was a sacred moment to watch North and South Koreans walk together in harmony and peace under a united Korean flag. Seeing Olympic athletes from both North and South Korea hold the flag simultaneously was a moment of hope. Peace was in the air and it was as if the whole world let out a collective sigh of relief. Watching this chill provoking moment, gave me faith to believe that just as peace became a reality for Ireland, it can also one day be achieved in Korea.
After North and South Korea walked together, the Korean folk song, Arirang, was performed by an older man in his 70s. I love the reverence for elders in the Korean culture. It was moving to see the focal song of the night be sung by someone older, since in the West, we would likely offer this role to someone young. The NBC commentators shared that this song is over 500 years old and that it is a song that is known by virtually all Koreans from the North & South. The commentators went on to share that this song represents finding beauty in the midst of sorrow. And in the midst of a world filled with so much pain and division, the world did find beauty and hope on the opening night of the Olympics.
This experience of seeing the Korean athletes walk together and hearing the folk song, Arirang, was a moment when humanity was at its best. During the 2018 opening Olympic ceremonies we encountered the Olympic Spirit, which I would define as the commitment to finding peace in our own hearts and in the world. This moment made me think of the song I sang in choir as a child called, "Let There be Peace on Earth." The first part of this song says:
Let there be peace on earth
And let it begin with me
Let there be peace on earth
The peace that was meant to be
With God our creator
Children all are we
Let us walk with each other
In perfect harmony
But the opposite of harmony is the human tendency to get stuck in resentment. When we are resentful we replay our feelings of hurt and our own account of the events that led up to our anger. When we hyper-focus on a painful experience, we relive all the feelings connected with it and as we do it takes a toil on our mind, body, and spirit.
Why can't we let go of this anger that we feel towards people who have hurt us? It seems to be a protective mechanism of sorts and we think if we keep the resentment festering, we won't be hurt again. We know that forgiving our offender might work for others, but we decide it won't work for us because the pain is too deep. We decide those who preach the benefits of forgiveness haven't walked in our shoes and don't know the deeply painful feelings our experience elicits.
It is no longer just clergy who are saying that resentment harms our health. Now many medical doctors and counselors believe that letting go of our anger helps us emotionally and physically. Our bitter feelings can literally make us sick. Dr Chris Aiken is a professor of clinical psychiatry at Wake Forest, and he shares, "In the two hours after an angry outburst, the chance of having a heart attack doubles…"  One research study found that those with a greater propensity for anger were more likely to experience coronary heart disease.
Mental health professionals have a term for it: post-traumatic embitterment disorder (PTED).  Some counselors will use this diagnosis as a framework for understanding clients who struggle with keeping the candle of bitterness lit. If you are having trouble letting go of anger, seeing a therapist may help you to tend to your wounds and move towards forgiveness.
Let me be clear. It's more than ok to be angry, and some people have the reverse problem of being so positive that they lose touch of their anger and pain. Feeling angry can be beneficial in the short-term. When we feel this emotion, the stressful event triggers reactions in our body called the fight or flight response, which can help us deal with the situation at hand. This response can help us to protect ourselves and set boundaries with others.
But if we stay angry we will likely end up with higher blood pressure and cortisol levels, and this will eventually take a toll on our body and mind. Jonathan Lockwood Huie said, "Forgive others, not because they deserve forgiveness, but because you deserve peace." Is there someone you need to forgive in order to move forward in your life? Sometimes we need to forgive ourselves, but it is important to consider how forgiveness will allow us to experience more freedom and life.
Forgiving also does not mean that we need to reconcile with our offender.  If we have experienced any type of abuse, setting strong boundaries with our offender can be of the upmost importance. Reliving painful memories keeps us from moving on with our lives.  And even if we make the decision to forgive, this decision not only is freeing to us, but it ultimately creates a ripple of peace not only in our hearts, but in the world. Forgiveness becomes a gift we give ourselves and the world. I truly hope Korea will find peace, but I also pray that we would experience peace in our hearts. Seeking this peace, means we embody the Olympic Spirit and this will make a difference not only in our lives, but also in the world.
Let there be peace on earth and let it begin with us,
Christy
References:
http://circ.ahajournals.org/content/101/17/2034.full
https://www.psychologytoday.com/blog/evil-deeds/201212/diagnosing-scrooge-syndrome-the-dangers-embitterment